me!!
WHAT IS UP you can call me seibei or blake! i probably love you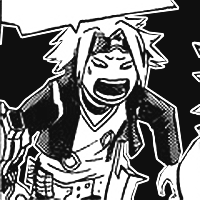 any pronouns are alright!! i mostly go by they or her though
3/25 (aries)
white
chaotic neutral
ill probably follow back!! but i might unfollow if you dont mutual me sorry,,
IDs
kaminari denki (bnha)
lenalee lee (d.gray-man)
fukami (wadanohara and the great blue sea)
saiko yonebayashi (tokyo ghoul:re)
teruki hanazawa (mob psycho 100)
kinning is something i do for fun! doubles are a-okay with me i would love to meme with you!!
interests
~~~~~
MAIN
boku no hero academia
mob psycho 100
d.gray-man
danganronpa
vocaloid
ocs
persona series
enstars
MINOR
bungo stray dogs
kekkai sensen
soul eater
mogeko/deep sea prisoner
world trigger
various psychological or horror manga (GIVE ME RECS)
MISC
eye-straining colors, psychedelic aesthetics
fish, my cats
music
drawing
guro
20's and retro aesthetics
YELLOW